Disney Vacation Club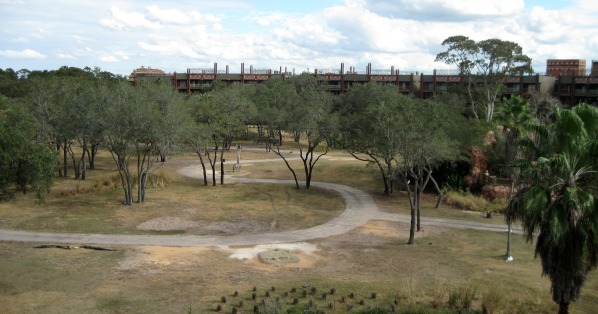 The Disney Vacation Club is a timeshare in Walt Disney World that is owned and operated by Disney. Accommodations are excellent and several are connected to Disney deluxe hotels. The properties are nicer than regular hotel rooms offering extra space and a kitchen or kitchenette. Many have separate bedrooms, jacuzzi tubs and washer and dryer!
The vacation club studios and villas can be purchased as a traditional timeshare option, rented from Vacation Club owners or booked like a hotel room directly from Disney.

---
---
---
Vacation Club Basics
Disney Vacation Club membership requires you to purchase the timeshare with a one time real estates transaction which is thereafter followed by annual dues. You receive an annual number of points to use which is based on the size and cost of your original purchase, called "interest". You purchase membership in a specific resort, though you can stay in other resorts.

Disney's timeshare grants flexibility through flexible dates, room category and the ability to purchase extra points at any time. You have the ability to use all your points within the year, save them for next year or borrow points. You can use your points as you desire. You can book a nicer room that costs more points or book a longer vacation in a less expensive studio or villa. Disney offers timeshares in many places including Walt Disney World, Disneyland, Disney Cruise Line and other Disney locations around the world.
About the Villas
Disney offers five type of vacation club lodging:
Deluxe studios
One bedroom villas
Two bedroom villas
Three bedroom grand villas
Treehouse Villas

Disney has timeshares in the following locations:
Walt Disney World:
Disneyland in California:
Villas at Grand Californian
Other:
Villas
Each Disney timeshare location offers a range of accommodations. Deluxe studios sleep up to 4, while grand villas sleep up to 12. The unique treehouses sleep up to 9 people. The Disney villas and studios offer a range of views at each resort.

The deluxe studio features:
355-412 square feet of space, roughly equivalent to a Disney deluxe hotel room
Sleeps 4 people plus infant in crib (pack & play included in room)
Kitchenette with microwave, sink & mini-fridge
2 queen beds or 1 queen & pull out double sofa bed
One bedroom villas have:
Sleep up to 4 or 5 people, plus an infant in a crib
Complete kitchen
Washer and dryer

One or two full bathrooms, including jacuzzi tub
Master bedroom with king sized bed & master suite
Dining area

About 714-942 square feet

Two bedroom villa:
Sleep up to 8 or 9, plus an infant in a crib
Complete kitchen
Washer and dryer
Two or three full bathrooms, including jacuzzi
King size bed in master bedroom, other beds vary
Over 1000 square feet

Three bedroom grand villa:
Sleep up to 12 people
Washer and dryer
Full kitchen
Four full bathrooms, including a jacuzzi
King size bed in master bedroom, with varying other bed types
Over 2000 square feet
Treehouse Villa:
Sleep up to 9

1074 square feet
Master bedroom with queen sized bed
Three bedrooms
Full kitchen
Laundry room with washer and dryer
Two bathrooms
Secluded, wooded setting 
The villas are different than regular hotel rooms in that they do not offer daily housekeeping services. The number of housekeeping visits you receive varies based on your length of stay. Also Vacation Club villa reservations are not easily cancelled as hotel rooms.
If you are staying in a DVC villa, you are entitled to many Disney perks including free transportation and Disney Express.

Benefits of Membership
Vacation Club membership entitles you to the following discounts:
Select restaurants

Spa treatments
Boat rentals
Golf
Shopping
Disney Tours
Annual pass
Disney also mails exclusive publications to Vacation Club members.

Disney Vacation Club villas offer fine accommodations on par with Disney deluxe hotels, lovely grounds and assorted amenities. Rental opportunities exist for those who are not members.

Click for more information on:
Home
› Disney Vacation Club