Disney Boardwalk Inn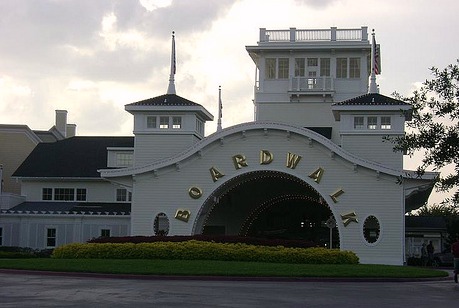 Disney Boardwalk Inn by Darren Witko

Disney Boardwalk Inn evokes a bygone era as a romanticized recreation of Atlantic City and Coney Island boardwalk from the early 20th century. As a deluxe Disney resort, the Disney Boardwalk hotel offers great dining and amenities. The hotel is centrally located on Disney World property, offering easy access to two theme parks and boasts the Disney Boardwalk entertainment and nighttime district.

Benefits
Upscale and elegant atmosphere
Service

Great location with easy access to Epcot and Disney Studios

Large rooms and bathrooms
Access to Disney Boardwalk dining, shopping, entertainment and nightlife
Amenities

Drawbacks
Expensive
Some rooms have a long walk from the elevator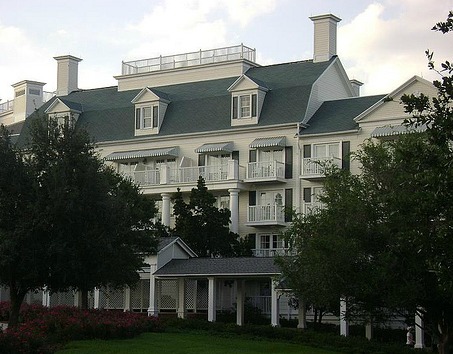 Boardwalk Inn by Darren Witko

The Disney Boardwalk Inn is a lovely deluxe Walt Disney World hotel with beautifully landscaped grounds. The Disney Boardwalk Hotel has a carnival-like atmosphere with striped awnings, white picket fences, cotton candy, bikes and an actual boardwalk on Crescent Lake. The Disney Boardwalk is a dining, entertainment and shopping area on a wooden boardwalk.
The lobby is classy and elegant. The Disney Boardwalk Inn has convention meeting space available. The Disney Vacation Club has villas at the Disney Boardwalk Villas.

The Boardwalk Inn has 372 large rooms with 390 square feet of space. Rooms have balconies, DVD players and granite counter tops in the bathroom. Rooms were refurbished in 2008. Most rooms have two queen beds or one king and a daybed.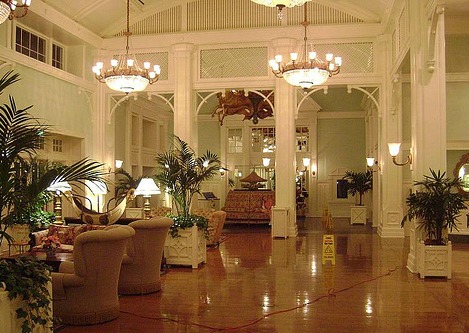 Boardwalk Inn Lobby by Darren Witko

Dining
Wonderful dining options are available at the Disney Boardwalk Resort:

Flying Fish Café: Disney signature dining specializing in seafood and also serving poultry, beef and vegetarian selections. Has a lively atmosphere with excellent service
ESPN Sports Club: Casual sit down restaurant and bar filled with large television screens and sports memorabilia; does not accept advance dining reservations
Big River Grille and Brewing Works: microbrewery & casual eatery with indoor and outdoor dining; does not accept advance dining reservations
Kouzzina by Chef Cat Cora, the only female Iron Chef from the Food Network show. Serves Mediterranean-Greek inspired cuisine
Belle Vue Lounge: A quiet bar with a veranda. Serves continental breakfast
Boardwalk Bakery
Also available are room service and a variety of quick service options on the Boardwalk including coffee, pizza, funnel cakes and snacks.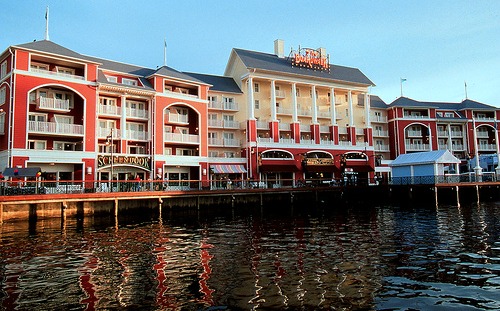 The Disney Boardwalk by Darren Witko

Recreation
The elaborate Luna Park pool area has a festive carnival theme. Luna Park features a large pool and the Keister Coaster. The Coaster is a 200 foot long water slide that is built to resemble an old-fashioned white wooden roller coaster. As you exit the slide you are deposited into the pool through of the mouth of an enormous clown face. The pool area has a hot tub and kiddie pool. Two quiet pools are also located at the Boardwalk Inn.
The Disney Boardwalk Inn offers the following amenities:
Health club open 24 hours, offering massages, steam room, sauna and a tanning bed
Arcade
Bike rental, including two person and four person bikes
Tennis
Marina for boat rental and fishing excursions
Outdoor movies nightly & campfires
20,000 square feet of convention meeting space
Walk or ride a boat to Epcot's "backdoor" International Gateway from Boardwalk Hotel Disney. The Disney Studios can be reached by boat or a 20 minute walk from Boardwalk. Buses are available to all other areas of Walt Disney World.

Address
2101 N Epcot Resorts Blvd
Lake Buena Vista, FL
Phone: 407-939-5100

The Disney Boardwalk Inn is a special resort. The resort offers deluxe amenities, excellent dining and great entertainment options. The Boardwalk Inn is one of the best located resorts in Walt Disney World. Expect to pay for this type of quality at Walt Disney World. As a deluxe property, the Disney Boardwalk hotel is very expensive.

---
For more information on other Disney hotels:
Home
› Boardwalk Inn
---