Disney Fort Wilderness

Disney Fort Wilderness Campground is a tranquil oasis away from the action of the theme parks. Fort Wilderness is set amidst lush vegetation, pine and cypress trees in the heart of Walt Disney World. The campground is located on the shores of Bay Lake, a natural lake on Walt Disney World property. The Fort Wilderness Resort is restful, casual, chock full of activities, pet friendly and only a short boat ride away from the Magic Kingdom.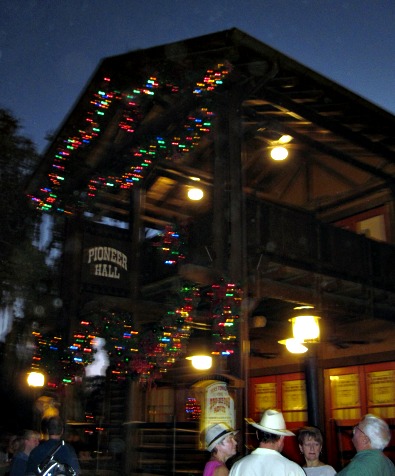 The Good
Totally unique experience at Walt Disney World
You can bring your RV or tent
Ability to cook your own meals
Pet friendly
Diverse amenities and recreational options
Very family friendly
Budget friendly
Has a good, inexpensive buffet

The Bad
Fort Wilderness is very large and spread out, requiring internal transportation by golf cart, bike or bus
Limited dining options
Rustic experience may not appeal to some
Cabins are somewhat expensive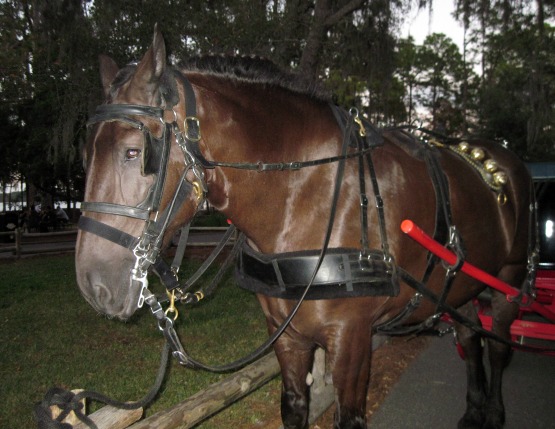 Horse Pulling a Carriage at Disney Fort Wilderness

About Fort Wilderness
Disney Fort Wilderness Campground is a true outdoor experience. This 700 acre campground opened in 1971 and offers 788 campsites and 409 cabins.
Full or partial campsite hookups are available. Preferred sites are closer to the amenities. 15 comfort stations are at the Fort Wilderness campground.
The Fort Wilderness Cabins are about 500 square feet in size and look like log cabins. The cabins have a deck, picnic table, grill, living room, bedroom and full kitchen. The bedroom has double bed and bunk beds and the living rooms has a Murphy bed, so the cabins can sleep six people plus an infant in a crib. On the downside, the cabins only have one bathroom. Prices start at $289/night for cabins and $48 for partial hook up for tent or pop up tent up to $80 per night for premium campsites. Handicapped accessible cabins are available on request.
For a more rustic experience at Fort Wilderness you can rent camping tents and cots for use in the Creekside Meadow.
Fort Wilderness is very large with an area of approximately 1.5 x .5 miles. Golf carts and bikes can be rented. Internal buses run through the resort, but you may need to wait for them. A boat is available from the dock to the Magic Kingdom. Disney buses serve other areas.

Fort Wilderness check in at the Reception Outpost and receive the Fort Wilderness Gazette informational newsletter. The Meadows Trading Post is at the center of resort and sells camping supplies, food, video rental and souvenirs. Settlement Depot carries supplies, gifts, sundries, souvenirs and groceries.
Dining
There are several dining options at Disney Fort Wilderness:

Crocket's Tavern in Pioneer Hall is a casual eatery
Trail's End Cafeteria in Pioneer Hall is the most economical all-you-can-eat buffet on Disney property
Mickey's Backyard Barbeque dinner show is an all-you-can-eat buffet with country music and dancing. Characters are in attendance. The show is held in an outdoor covered pavilion and is offered several nights a week
Hoop Dee Doo Revue is a popular all-you-can-eat nightly show held in Pioneer Hall at Fort Wilderness. A Disney classic!
Chuck Wagon serves snacks, pizza, hot dogs and popcorn
Meadows Pool Snack Bar serves snacks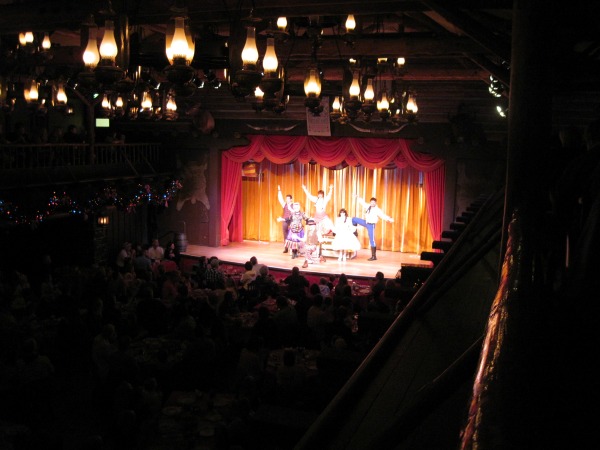 The Hoop Dee Doo Musical Revue at Fort Wilderness

Recreation
The Fort Wilderness Campground has more diverse recreational offerings than any other Disney resort. The Bike Barn rents bikes, canoes, kayaks, fishing equipment and tennis equipment. You can fish for free in the canals. It is catch and release for largemouth bass, bass and bluegill. Chartered fishing excursions are available on Bay Lake for largemouth bass.

Fort Wilderness Waggin' Trails Dog Park is an enclosed area where you can play with your dog without a leash; Pet walking trails are also available, but owners are expected to clean up after their pets.

The Campfire with Chip and Dale is a Disney classic at Fort Wilderness! A sing along and marshmallow roast are held first (either bring your own marshmallows or purchase at the Chuck Wagon.) followed by a Disney movie. This activity is open to all Walt Disney World resort guests.

Two heated swimming pools at the Fort Wilderness are open 24 hours with limited life guard coverage. The larger pool has a slide, hot tub and child play area. Poolside activities are conducted each day at Fort Wilderness. The old water park, River Country, is closed.

Fort Wilderness Resort also has:
White sand beach
Horseback riding from Tri Circle D Livery
Tennis
Archery
Cruises on Bay Lake
Tri-Circle-D Ranch & Farm Stables includes Blacksmith Shop and Draft Horse Barn for the horses at the Magic Kingdom
Jogging trail
Pony Rides
Playground
Hay rides in a wagon

Horse drawn carriage rides
Volleyball
Horseshoes
Shuffleboard
Basketball
Two Arcades
Water activities on Bay Lake include waterskiing and parasailing
Segway tours
Electrical Water Pageant Parade nightly on Bay Lake
Disney World Fort Wilderness celebrates the holidays with activities and celebrations with flair unlike anywhere else in WDW!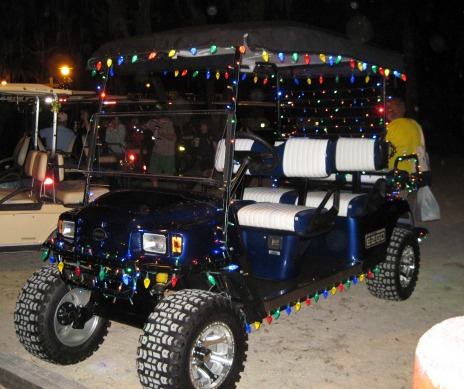 Golf Cart Decorated for Christmas at For Wilderness

Address
4510 N. Ft. Wilderness Trail
Lake Buena Vista, FL 32830-1000
407-824-2900
The Disney Fort Wilderness Campground is a restful reprieve from the hectic pace of Walt Disney World. The campground has more recreational activities than any other resort on property. If you want to "rough it" Disney style, Fort Wilderness Resort is a great for those on a budget or looking for an outdoor adventure.

---
Click here for more information on:
Home
›
Home
› Fort Wilderness Campground
---