Disney Swan and Dolphin

The Disney Swan and Dolphin Hotels are award-winning sister resorts in Walt Disney World. Nestled on the shores of Crescent Lake in the Epcot resort area, the resorts were designed by famed architect Michael Graves. The Swan and Dolphin house a combined 2267 rooms and suites. Owned by Starwood Resorts, the hotels are touted as deluxe resorts. The Disney Swan and Dolphin boast a large convention center, five pools, 17 restaurants and bars, a wide variety of recreational options and an awesome location in the center of Walt Disney World.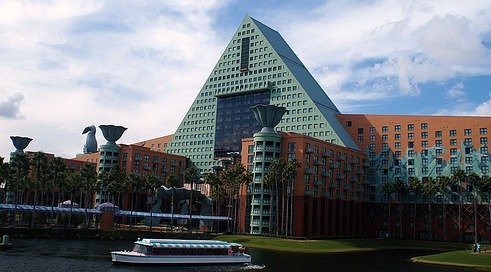 The Dolphin by Darren Wittko

Positives
Great location between Epcot and Hollywood Studios

Excellent pool
Guests are entitled to most perks available to onsite Disney guests
Great views of Walt Disney World resort, especially Epcot's Illuminations
Great dining options

Extensive meeting and business services
Abundant recreation and amenities including the full service Mandara Spa and a convention center

Access to Boardwalk entertainment district
Green friendly
Negatives
Long walk to some rooms
Not Disney owned

Theme is not Disney-oriented
Expensive food
Daily fee for parking
Daily resort service fee
Double beds at the Dolphin
Not entitled to some Disney onsite perks, including charging to room, Disney Magical Express and Disney Dining Plan

Bright decor may not appeal to everyone

About the Swan and Dolphin
The Disney Swan and Dolphin resorts are owned and managed by Starwood Resorts, the parent company of Westin and Sheraton.The Swan has 758 rooms and the Dolphin has 1509 rooms. Designed by the famous American architect Michael Graves, these whimsical hotels face each other were designed to be viewed from each other. The resorts opened in 1990 and are decorated in sea foam green and peach tones with images of giant waves and banana leaves on the exteriors giving it a tropical flair. Huge images of swans and dolphins adorn the exterior of their respective hotel. Attractive landscaping with fountains and tall palm trees complete the island feel. The resorts are beautifully lit at night.
This AAA Four Diamond resort has won many awards in the hotel, dining, catering and meeting industries. The hotels were recently remodeled. The decor is fun and whimsical, though somewhat loud.

The Disney Swan and Dolphin Resorts were designated as a Florida Green Lodging Property by the Florida Department of Environmental Protection. The resorts utilize many eco-friendly practices, including in-room recycling, paperless (electronic) communications, motion-activated lights and organic cleaning products. Toilet and sinks are automated with water-saving devices. Bed linens and towels are changed only on request to conserve water. Guests can decline housekeeping services for a $5.00 food/drink voucher or 500 Starwood points. The resort uses eco-friendly pest control and paint products. Organic and vegetarian dining options are available in the restaurants and convention center.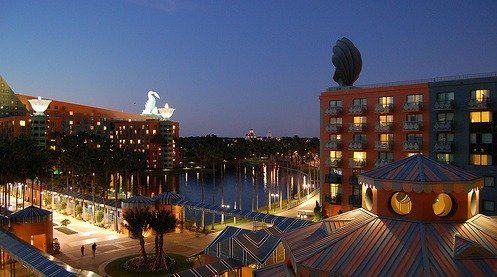 The Disney Swan and Dolphin by Darren Wittko

Rooms
Disney Swan and Dolphin rooms are approximately 340 square feet and have:
Stylish design by Michael Graves, from carpeting to draperies to walls and bedding
Westin "Heavenly beds" with pillow top and down comforter
Maple wood bureau
Desk
Flat screen TV
Desk
Internet access, high speed
King & pull out sofa or queen beds (Swan)
King or double beds (Dolphin)
Great lighting for reading
Mini-fridge
Coffee makers in the rooms
Safe
Hair dryer
Iron & ironing board
Newspaper delivery
Nightly turndown service upon request
Rooms are all non-smoking. A variety suites, concierge and handicapped accessible rooms available. Room rate start at $139 per night with packages available. Check in 3PM and check out is 11AM.
Rooms have standard, lake, resort or Epcot views. Some rooms have balconies.
The Disney Swan and Dolphin charge a daily mandatory resort services fee of $17 which includes two bottles of water daily, high speed internet and health club.
In 2011 Swan & Dolphin rooms were refurbished in attractive earth hues. The lobbies were refurbished in 2006.

The Swan and Dolphin cater to a lot of conventioneers and foreign tour groups. The Dolphin is more business oriented and quieter than the Swan which caters more to families.
Transportation is by boat to Epcot and Disney Hollywood Studios. You can also walk to Hollywood Studios or Epcot's International Gateway in ten minutes. Boats are shared with Yacht and Beach Club and Boardwalk Inn. Buses serve other areas. The Swan and Dolphin hotels charge $15 a day for for self-parking and $20 a day for valet.
Disney Perks
The Disney Swan and Dolphin are not owned by Disney. Guests of the resort are entitled to several benefits normally reserved only to guests of Disney resorts:

Guaranteed admission to the theme parks on days when the parks close because they are filled to capacity

Package delivery to your hotel from the theme parks

Advance reservations with preferred tee times for golf
Free parking at the theme parks
Complimentary transportation
Room charging privileges are only good at the Disney Swan and Dolphin Resorts, not the rest of Walt Disney World. Disney Swan and Dolphin guests are ineligible for Disney Magical Express and Disney packages, including the Disney dining plan.

Dolphin Resort

The Dolphin is 27 stories high with 9 story wings. Upper level rooms afford fantastic views of Walt Disney World. The Dolphin Hotel sports a triangular shaped tower and the exterior is brandished with a banana leaf motif. Giant dolphins decorate the exterior of the building. Beautiful lush vegetation surrounds the luxurious resort. Rooms have large bathrooms with separate vanity area. Dolphin is the larger of the two hotels with about 1500 rooms and has a grander lobby. Rooms have either a king or two double beds. Bathrooms have one vanity (Swan rooms have two).

Swan Resort

The Disney Swan is 12 stories high with 7 story high wings. Two giant swans adorn the hotel. The exterior is covered with images of huge tropical waves. The Swan is the smaller of the two resorts with about 750 rooms. Rooms have a king bed or two queens. The bathrooms have two vanities with one in the bathroom.

More on the Swan and Dolphin
The Swan and Dolphin offer a lot of discounts including AAA, discounts for nurses, teachers, Starpoint point redemption, military and annual passport discounts.
Visitors give the Disney Swan and Dolphin Hotels mixed reviews with some reporting that rooms need updating, though they were refurbished recently. Some have housekeeping complaints while others report clean rooms. The design and décor are visually interesting and engaging, but will not appeal to everyone. Also beware that there is not a lot of overt Disney theming.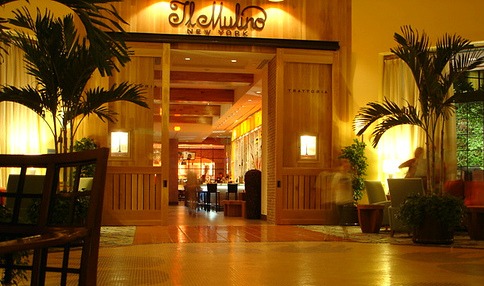 Il Mulino by Darren Wittko

Dining
Cabana Bar and Beach Club is a  casual eatery near the pool, serving burgers and salads (Dolphin)
Fresh Mediterranean Market is a casual Mediterranean eatery with an open kitchen. Serves a breakfast buffet and lunch seasonally. Food is influenced by France, Morocco, Spain, Italy & Greece (Dolphin)

The Fountain is a casual restaurant serving ice cream and burgers (Dolphin)
Garden Grove is open for breakfast, lunch and dinner and hosts character meals (Swan)
Il Mulino offers signature Italian dining (Swan)
Java Bar is a quick service coffee bar (Swan)

Kimono's offers signature dining for Japanese food; open for dinner only (Swan)
Picabu is a convenience store and cafeteria open 24 hours (Dolphin)
Shula's Steak House offer signature dining in an elegant setting. Open for dinner. (Dolphin)
Splash Terrace is the spot for breakfast, lunch, dinner and snacks near the pool. Serves hot dogs, hamburgers and ice cream. (Swan)
Todd English's bluezoo offers signature dining in this AAA 4 diamond restaurant; open for dinner only. Reservations needed (Dolphin)
The resorts also have five lounges and 24 hour room service. Disney Vacation Club membership entitles you to 20% discount at most Disney Swan and Dolphin restaurants (except Todd English's bluezoo and Shula's Steak House). Most restaurants also accept the Tables in Wonderland discount. The Swan and Dolpin offer refillable mugs, but the Disney Dining Plan is not available.
Recreation
Four golf courses nearby with golf packages available
Miniature golf at Fantasia Gardens across the parking lot
Mandara Spa is a great full service spa with an Asian twist. Offers massages (including couples massage), reflexology, nail services, manicures, pedicures, hair salon, waxing, body therapies and makeup application. Also offers services for teens including massage, facials and nail services. Currently, you will receive two hours of free childcare at Camp Dolphin when you purchase 75 minutes or more of spa services. The spa has couples suites, steam rooms and a meditation garden (Dolphin)
Five pools are open 9AM to 9PM. Towels can be found poolside. The fantastic main grotto pool is a three acre watery playground with a water slide and waterfalls amidst lush tropical vegetation. The pool is shared between the resorts
Two lap pools (one at each resort)
Kiddie pool near grotto pool
Dolphin Spring pool. Nearby is the Cabana Beach Hut which rents tubes, rafts, boats. Towels, volleyballs and basketballs are available with your room key. Life vests are complimentary
Four hot tubs
Two restaurants poolside
Marina with boat rental
White sand beach with beach volleyball, playground, basketball hoops, ping pong tables
Two Health Clubs- one at each resort, smaller at Swan
Four Tennis courts
Jogging trail
Two arcades: one in each hotel
Seven shops including an art gallery
Two business centers with access to computers and printing 24 hours a day
Camp Dolphin childcare services in the evening
Over 300,000 square feet of meeting space for conventions and weddings. Also available is more than 125,000 square feet of landscaped outdoor meeting space. There are four ballrooms, the largest of which is 55,000 square feet, and over 80 meeting rooms. Rooms have state-of-the-art audiovisual equipment
Car rentals from Alamo and National
Bell services and self-service laundry facilities (coin-operated) are available.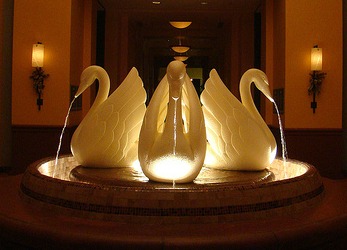 The Swan Hotel by Darren Wittko

Address
The Walt Disney World Swan
1500 Epcot Resorts Blvd.
Lake Buena Vista FL 32830-2653
(407) 934-3000
The Walt Disney World Dolphin
1500 Epcot Resorts Boulevard
Lake Buena Vista, FL 32830-2653
(407) 934-4000
The Disney Swan and Dolphin are a change from the typical Walt Disney World hotel. The fanciful theme fits nicely in Walt Disney World, but there is a lack of overt Disney theming (this can be positive or a negative, depending on your taste). The resorts are sophisticated, but lack the Disney touch. The Swan and Dolphin are eco-friendly, in a great location and offer a wide variety of activities and dining options. It is relatively easy to get a nice discount on a room rate, but beware of the added taxes and fees.

Click for more information on:
Home
› Swan and Dolphin