Disney Animal Kingdom Lodge

Enter the exotic world of Africa at the Disney Animal Kingdom Lodge! The resort hosts an African savannah complete with wild animals. This Disney deluxe resort is located adjacent to Disney's Animal Kingdom theme park. The hotel features a truly unique atmosphere with a stunning lobby, excellent amenities and superb dining.

What We Love
Exceptional theming
Savannah-view rooms overlooking live animals

Beautiful lobby and rooms
Great swimming pool
Excellent customer service
Outstanding dining options

What We Don't Love
No marina or water activities, except for pool
Remote location from most of Walt Disney World, except Animal Kingdom park

Animal Kingdom Lodge is comprised of two sections. The original building, Jambo House, was built in 2001. Jambo House has a beautiful atrium lobby that is reminiscent of the Wilderness Lodge lobby (it was designed by the same architect).
Animal Kingdom Lodge has 33 acres of property devoted to three different savannahs which can be viewed from the hotel rooms or public areas. The savannahs have more than 200 varieties of animals and birds, including almost 100 different types of grazing animals.. You can view giraffes, zebras, ostriches, gazelle, wildebeest, flamingo, cranes and storks, to name a few.
Jambo House is a very large six-story high building that contains the lobby, hotel rooms, a nice gift shop, restaurants and a lounge. The open soaring lobby features African artifacts and a beautiful large window that overlooks the savannah. Outside the lobby you will find a firepit and outdoor animal viewing areas.

In 2009, Disney opened Kidani Village about a half mile from Jambo House. Kidani Village contains Disney Vacation Club Animal Kingdom villas. Kidani Village has views of the savannah with live animals, a neat pool area and nice restaurant.
Some of the original guest rooms with Jambo house were also converted to Disney Vacation Club villas.
Click for more information on Animal Kingdom Lodge rooms.

Dining
Animal Kingdom Lodge offers some of the best resort dining on Disney property.
The Mara is the quick service restaurant in Jambo House
Boma- Flavors of Africa is a buffet offering an outstanding selection of African-inspired foods. Open for breakfast and dinner
Jiko- The Cooking Place is the resort's signature restaurant. The restaurant offers elegant dining in a stylish and subdued atmosphere. Perfect for a romantic dinner!
Sanaa is an undiscovered gem at the Kidani Village. This lovely sit down restaurant overlooks the savannah and serves African foods with an Indian influence. It may not sound appealing to some palates, but the food is quite good and highly recommended
Click here for more information on dining at the Animal Kingdom Lodge.

Amenities
The Animal Kingdom Lodge offers activities throughout the day for its guests:
Swimming pools at Jambo House and Kidani Village
Jogging trail
Arcade
Sunrise safaris 
Campfire
Movies under the stars
Playground
Simba's Clubhouse child care center
Guests at Jambo House and Kidani Village can enjoy the amenities of both sections of the resort. Disney offers bus service to all areas from the Animal Kingdom Lodge.

Address
2901 Osceola Parkway
Lake Buena Vista, Florida 32830-8410
Telephone (407) 938-3000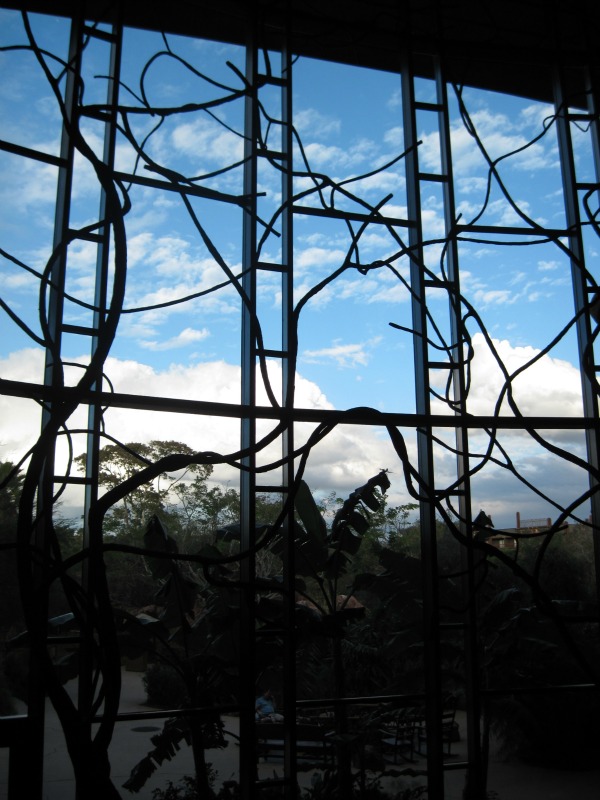 The Disney Animal Kingdom Lodge offers a special experience for visitors. With three savannahs full of live animals, outstanding restaurants, attractive rooms and a boatload of resort activities, this resort is highly recommended!

---
For more information on other Disney hotels:
Home
› Disney Animal Kingdom Lodge
---