Disney Pop Century Hotel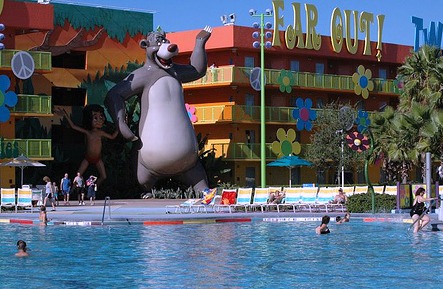 Pop Century Pool by Brian Marshall

The Disney Pop Century Hotel is a Disney value resort celebrating American Pop Culture from the late 20th century. The resort opened in 2003. Large phrases and icons adorn the four story high buildings creating a colorful and festive atmosphere.
What We Like
Fun

Affordability
Atmosphere
Good customer service
Family friendly
What We Don't Like
Juvenile theming

Spread out, requiring long walks from some areas
Small rooms

Noise levels
Bus stop uncovered
General lack of amenities
No sit down restaurant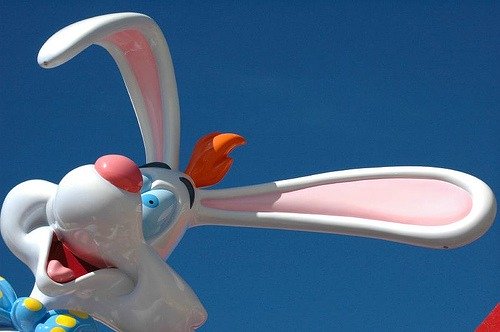 Roger Rabbit by Brian Marshall

The Basics
The Disney Pop Century Hotel is situated on Hourglass Lake, across from the Art of Animation Resort. Ten motel-like buildings house 2880 standard sized hotel rooms. Each of the four story high buildings is decked out out with icons like a gigantic Big Wheel, Foosball game, Twister and 8-track tapes. Huge yo-yo's, bowling pins and Rubik's cubes encase the exterior stairwells of the motel-like buildings. The effect is very cute!

The Disney value resorts are basic and will meet your needs, especially if you will be spending all your time at the parks. The Disney Pop Century Resort is an attractive alternative to breaking the Disney magic by staying off property. Be forewarned that the hotel frequently hosts large tourist groups.

The hotel was originally planned in to open in two phases: The Classic Years and The Legendary Years.
Each Classic Years buildings are themed in one of the following decades:
1950's: featuring huge images of Lady and the Tramp, old 45 records and a larger-than-life jukebox
1960's: has Baloo and Mowgli from the Jungle Book, peace signs, Play Doh and flower power images
1970's: displays references to disco dancing, a Mickey Mouse phone and mood ring
1980's: Roger Rabbit, a walkman, Pac Man and Michael Jackson adorn these buildings
1990's: cell phones, a lap top computer and rollerblades can be seen in this area

The Legendary Years section was planned as the second stage of the construction project & was to include the decades from 1900-1940. The initial phase of the project was started, halted and later changed into the Art of Animation Resort, across the Generation Gap Bridge.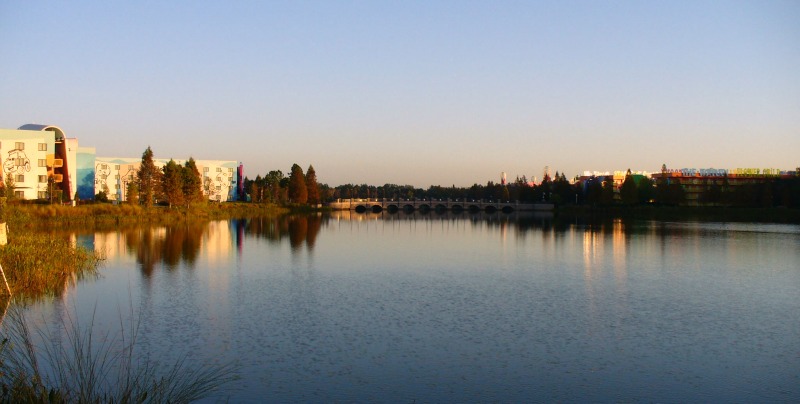 Address
1050 Century Drive
Lake Buena Vista, Florida 32830
(407) 938-4000


---
Click here for more information on:
Click here for information on other Disney Resorts:
Home
› Pop Century