Disney Caribbean Beach Resort

Enter the relaxing oasis of the Caribbean Islands at the Disney Caribbean Beach Resort. Centered around a lovely 45 acre lake, the resort is themed after the islands of Trinidad, Martinique, Barbados, Aruba and Jamaica. This moderate Disney resort features lush landscaping amidst colorful buildings that will transport you to the Islands!

Caribbean Beach Resort by Darren Wittko

Pros
Attractively landscaped grounds
Good recreational options, including boating, fishing and bikes
Fun pirate-themed main pool
Family friendly resort

Cons
Resort is very large and spread out, necessitating a lot of walking
Bus service inconsistent and can be crowded

Limited dining options
Most rooms have double beds instead of queen beds
Rooms have motel-like exterior entries
The two story resort buildings lack elevators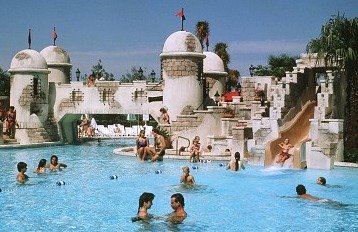 Caribbean Beach Resort Pool by Darren Wittko

Overview
Disney Caribbean Beach Resort was built in 1988. Colorful villages representing six different Caribbean islands encircle Barefoot Bay, a picturesque 45 acre lake.The resort contains 2112 hotel rooms in 33 buildings set on 200 acres of beautiful Walt Disney World property.
The rooms are approximately 340 square feet with two double beds or one king. The rooms can sleep up to four people plus and infant in a crib. Newer pirate themed rooms are available.

Each "island" has its own quiet pool and white sand beach along the picturesque lake, Barefoot Bay. A 1.4 mile jogging path encircles the lake, making a pleasant place for a stroll or run. At the center of the lake is Caribbean Cay, a large island which connects to the mainland via footbridges.
Caribbean Beach Disney resort check in, bell services and concierge are located in the Custom House, as you arrive onto the property. Located in a different area, Old Port Royale is the main resort building containing the food court, restaurant, arcade and gift shops. Outside Old Port Royale are the main resort pool and marina. The main pool, themed after a pirate ship, is a lot of fun!

---
Walt Disney World Caribbean Resort is a fun resort. The colorfully painted buildings along the lake create a festive atmosphere. The resort has the amenities and price you would expect from a moderate Disney resort.

Click for more information on:
---
Home
› Caribbean Beach Resort