Port Orleans Rooms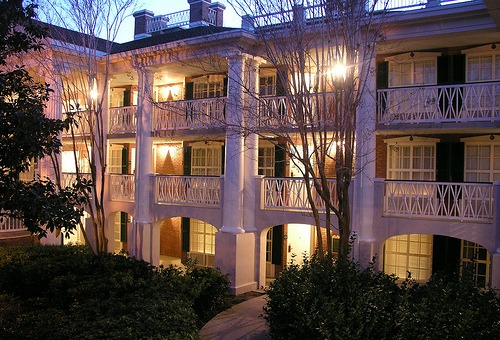 Port Orleans Riverside by rickpilot_2000

Port Orleans Rooms are housed in two separately themed resorts: the French Quarter and Riverside. French Quarter has 1008 hotel rooms and Riverside houses 2048 rooms. All the rooms at this Walt Disney World moderate resort are 314 square feet. The rooms are identical at each resort except the decor changes to match the theme in each section. All the hotel buildings have exterior corridors.
The French Quarter section is themed after the New Orleans Mardi Gras. Riverside has two separate areas: Magnolia Bend and Alligator Bayou. Magnolia Bend is a sophisticated gentile southern plantation and Alligator Bayou is the quaint and rustic Louisiana bayou.

Most rooms have two double beds, a table and chairs and a vanity area separate from the bathroom. The room windows overlook public walkways. The rooms sleep four plus and infant in a crib at the Port Orleans and Riverside Magnolia Bend section.
The Riverside Alligator Bayou rooms also have a Murphy bed and can sleep up to five plus an infant in a crib. This is a big plus as the only Disney moderate resort to sleep more than four people. Some rooms with king sized bed are available and sleep two people. Handicapped accessible and connecting rooms are also available upon request.

The available views are:
Standard: includes courtyard
Garden
Pool
River (the most expensive)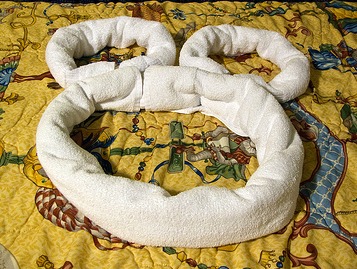 Mickey Towel by HarshLight

The French Quarter hosts hotel rooms in seven-three story buildings. The exteriors are painted in bright colors and resemble charming townhouses with wrought iron railings on the public walkways and shutters on the windows. The attractive rooms are decorated with cherry woods and hues of gold and purple to carry off the Mardi Gras theme. The theme is stylish with understated Mickey Mouses in the bedspread.  The French Quarter rooms are among the prettiest you will see at Disney moderate resorts. As a bit of an odd note, the toilet flush is noisy at the French Quarter since they use air pressure technology similar to that on an airplane.
In Riverside, Magnolia Bend has 1024 rooms in four very large buildings.The buildings are two or three stories with a centrally located elevator. The decor is flowery and plush. These beautifully decorated rooms have moss green walls, rich oak furniture with light blue bedspreads creating a graceful mood.

The peaceful Alligator Bayou section has 1024 rooms in 16 rustic wooden buildings. The buildings are all two stories and do not have any elevators. The rooms resemble cabins with headboards made of logs and quilted bedspreads. The decor is rustic and some might consider it a bit plain. The rooms also have an extra fold down Murphy bed to sleep one extra person.

New in 2012, Royal Rooms were introduced to the Port Orleans Riverside. Housed in the Oak and Parterre buildings in Magnolia Bend, the updated rooms prominently feature Disney Princesses, especially the Princess and the Frog from New Orleans. The wallpaper border resembles crown molding. Filigreed brasswork is in the bathrooms. The Royal Rooms are richly decorated in hues of gold and blue. Cherry headboards rise all the way up to the ceiling and feature a fiber optic fireworks display. Walls are decorated with pictures of princesses and a few hidden Mickeys. The Royal Rooms all have two queen beds and sleep four.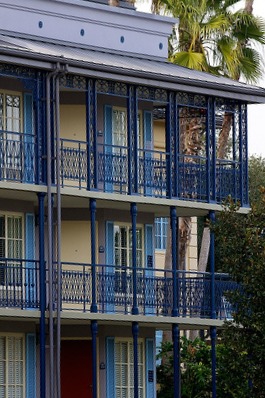 French Quarter by p_a_h

Hotel rooms contain the following:
Two queen sized beds or one king in most rooms

Flat screen television with HDMI ports for plugging in camcorders or games

Table and two chairs
Bedside table
Small wall safe
Complimentary Wi-Fi
Ceiling fans, except in Royal Rooms 

Mini-fridge
Hairdryer
Iron and ironing board
Coffeemaker
The rooms are non-smoking, but select outdoor smoking areas are available.
Resort check in is at 3:00 pm and check out at 11:00 am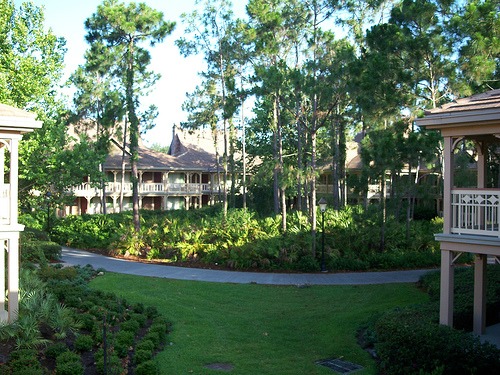 Riverside Alligator Bayou by docsdl

The resort has free self parking near the Magnolia Bend buildings and around the perimeter of the Alligator Bayou buildings, with some buildings requiring more walking. Self parking at the French Quarter is conveniently located next to buildings 3, 4 and 7.

Click here for more information on: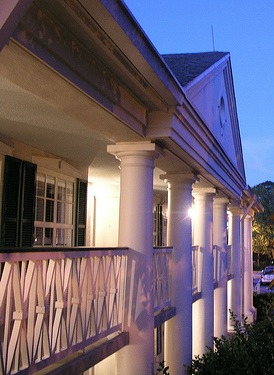 Riverside by rickpilot_2000

Tips:
Corner rooms have an extra window
Preferred rooms are nearer the hotel amenities
Magnolia Bend does not have any preferred rooms

Each section of Port Orleans Resort has its fans. This hotel is our favorite of the Disney moderate resorts. Riverside has beautiful rooms and great amenities, but is huge, requires a lot of walking and you must cross over wooden footbridges from the Magnolia Bend section to get to the main resort buildings. French Quarter has lovely rooms and a smaller romantic feel, but offers fewer amenities.
Home

›
Port Orleans
› Port Orleans Rooms