Port Orleans Recreation

Port Orleans recreation activities are diverse at this moderate Walt Disney World resort. The Riverside section of the resort is much larger and hosts a lot of recreational activities from the 3.5 acre playground Ol' Man Island.

French Quarter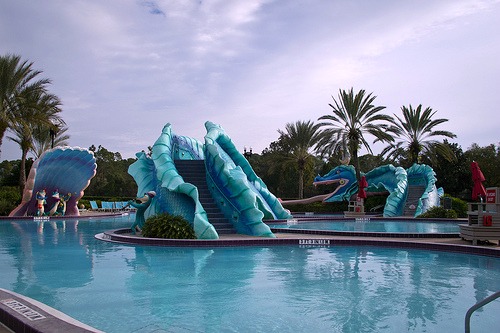 Doubloon Lagoon by HarshLight

Pool
Slide down a sea serpent's tongue into the 225,000 gallon Doubloon Lagoon pool at the Disney Port Orleans French Quarter. The serpent's long tongue serves as the slide into the pool. This delightful pool is themed after the New Orleans Mardi Gras. A kiddie pool, hot tub and small playground are nearby. Complimentary locker rentals are available at the pool area. Poolside activities abound with a squeaky-clean Mardi Gras parade at 4:00 PM daily. The Mardi Grogs pool bar is located near the pool.

French Quarter Pool Area by HarshLight

The French Quarter also offers:

Jogging path: 1 mile along the Sassagoula River

Cajun Campfire: roast marshmallows, hear stories and sing songs nightly

Movies Under the Stars nightly in Beignet Square
Guests at the French Quarter can enjoy all the amenities and recreation of Riverside.

Riverside
Ol' Man Island
Riverside Main Pool by rickpilot_2000

Ol' Man Island is a 3.5 acre watery playground. Located on an island in the Riverside section, Ol' Man Island hosts an array of resort activities.
The resort's largest pool is located on Ol' Man Island. The 158,000 gallon pool seems like something straight out of Tom Sawyer. Water drips into the pool from wooden structures above the rustic fishing hole. The pool also has a geyser and a 95 foot long slide.
The resort has one hot tub. Children under 12 must be accompanied by an adult. The hot tub is frequented by children, so it may not be entirely relaxing.
Showers and lockers (fee) are available near the pool bar. Towels are available poolside at the main pool only. Life vests are available and life guards are on duty during select hours.
The Muddy Rivers pool bar servers drinks and light snacks. This pool tends to get very busy. There is a daily pool party and a host of other poolside activities throughout the day including a Dance Off.

Ol' Man Island also has the following activities:
Fishing hole: catch and release for catfish, bluegill and bass. Cane poles & bait for a fee

Small playground

Nightly campfire
Cast member organized activities can be found on the Island, including crafts. Three wooden bridges connect the island to the mainland.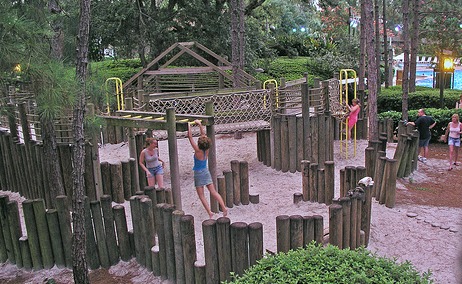 Ol' Man Island Playground by rickpilot_2000

Additional Activities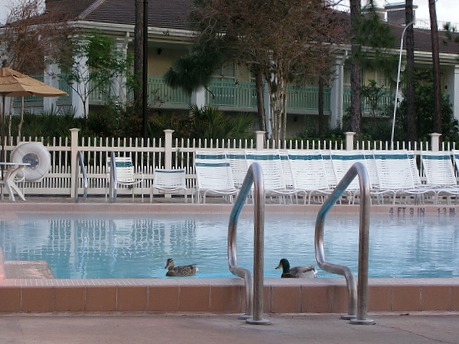 Ducks Enjoying the Riverside Quiet Pool by rickpilot_2000

Riverside has five quiet pools (3 in Alligator Bayou & 2 in Magnolia Bend). Restrooms and changing rooms are found at each pool, but no lifeguards. Towels are not available poolside, so you must bring towels from your room and call housekeeping for more.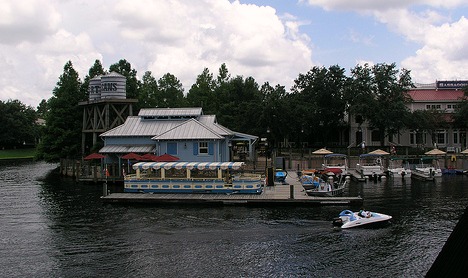 Port Orleans Marina by rickpilot_2000

Riverside also offers the following activities:

Bikes: 2 or 4 person bikes are available from the Riverside Levee Marina

Boats: rent motorboats (for 2, 6 or 10 people), pedal boats & kayaks from the marina

Jogging path: 1 mile along the Sassagoula River in Riverside or 1.7 miles through Riverside and French Quarter

Fishing excursions: 2 hour fishing excursions start at 6:30 am on the Sassagoula River. Call 1-407-WDW-BASS (1-407-939-2277) for reservations
Pirate Adventure Cruise: 9:30-11:30 AM daily. For children only, ages 4-12. Follow clues to search for hidden treasure. Departs from the Ol' Man Island Fishing Hole and sails down the Sassagoula River. Snack included.

Nightly Movies Under the Stars: watch a Disney movie on the grass near Oak Manor
Horsedrawn carriage rides: from 6:00-9:30 PM from the Riverside Levee Marina. Reservations can be made up to 180 days in advance at (407) WDW-PLAY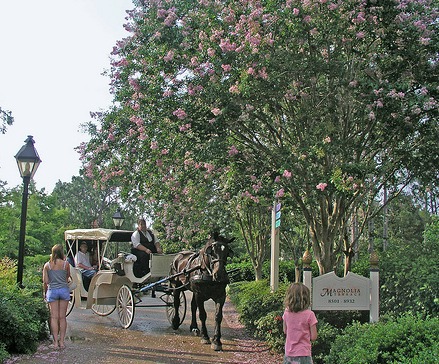 Horse drawn carriage by rickpilot_2000

Click here for more information on: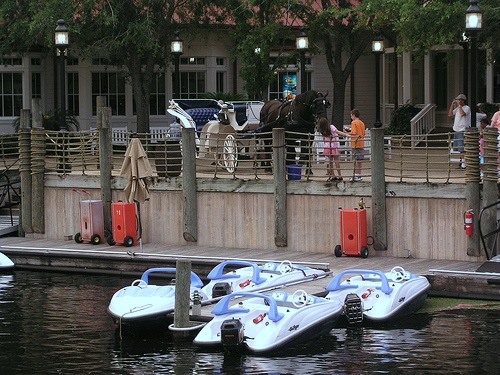 Riverside Marina by rickpilot_2000

Home

›
Port Orleans
› Port Orleans Recreation