Port Orleans Amenities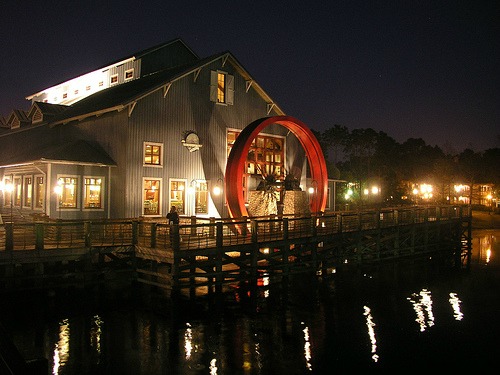 Port Orleans Riverside by rickpilot_2000

Discover the Port Orleans amenities at the Walt Disney World Resort in Orlando, Florida.
The French Quarter is compact and quaint with neatly laid out green public squares. The French Quarter has a food court, but no sit down restaurant. Most of the resort recreation is in the Riverside section. The Riverside section is larger with more amenities, but is also huge and spread out. Riverside has a larger food court, sit down restaurant, more pools and a larger gift shop.
Riverside Waterfront by tfduesing

Port Orleans offers the following amenities:
Bus transportation to theme parks and water parks
Boat transportation to Downtown Disney
Disney's Magical Express
Online check-in
Laundry room, self service for a fee. Laundry service is also available for a charge
Merchandise delivery from the parks to the resort

Bus service to the parks is average from the resort. French Quarter has only one stop, but most buses also stop at Riverside. Riverside has four bus stops. The Riverside South Depot near the main resort building is usually the busiest bus stop. Bus service is better from the French Quarter as it is usually picked up and dropped off first. However, most buses make five stops, which is time-consuming.

It can be challenging to get to other resorts from Port Orleans without a car. Consider hiring a taxi if you have dining reservations at another resort.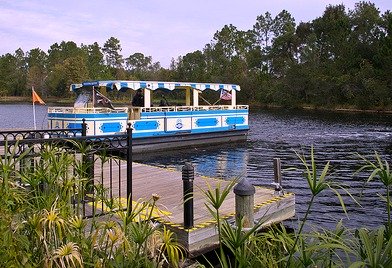 French Quarter Boat by HarshLight

French Quarter
French Quarter Lobby by HarshLight

The Mint is the main building at the French Quarter. The Mint contains:
Resort check in
Concierge services for reservations, tickets and babysitting services

Bell services: they will store, deliver or pick up your luggage, but you may need to wait for it

Jackson Square Gifts and Desires gift shop
Sassagoula Floatworks and Food Factory food court

South Quarter Games is a small but good arcade

French Quarter Dining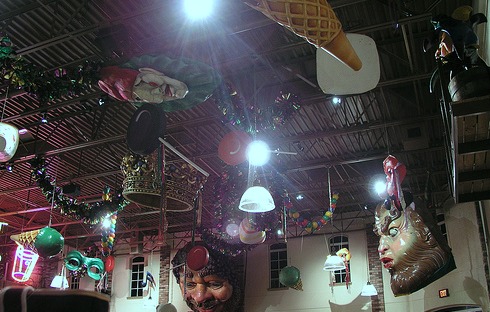 Sassagoula Floatworks Factory Food Court by rickpilot_2000

Port Orleans French Quarter has the following dining options:
Sassagoula Floatworks and Food Factory food court is one of the best food courts at Walt Disney World. It serves breakfast, lunch and dinner is a warehouse setting. Mardi Gras masks and characters create a festive atmosphere. The food court features American and Creole food. Disney's refillable mugs are available for purchase and refills at the food court.

Scat Cat's Club entertains with jazz music in the evenings. Appetizers are available.

Mardi Grogs pool bar serves alcohol and light snacks near the pool.
Pizza, wine and beer delivery is available to the rooms.

Riverside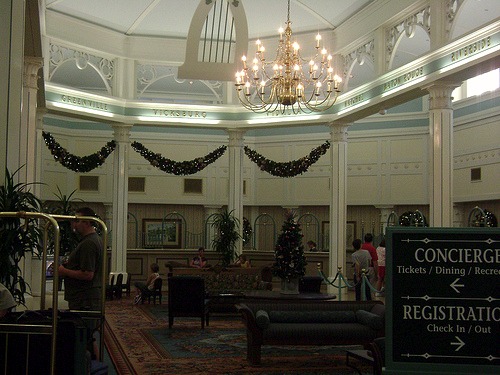 Riverside Lobby by Best of WDW

The Sassagoula Steamboat Company building houses the elegant Riverside lobby. The building is themed after a steamboat ticket station. The following are found in this building:
Resort check-in
Concierge for tickets and reservations. They can also arrange in room babysitting for you through Kids Night Out
Bell services make scheduled runs of luggage or will store your luggage

Fulton's General Store
Resort dining
Main bus stop, the South Depot, is located near the building. Riverside has a total of four bus stops.
Medicine Show Arcade is in the Colonel's Cotton Mill building and is one of the largest at Walt Disney World. The arcade does not accept cash, so you must purchase a renewable play card.
Riverside Dining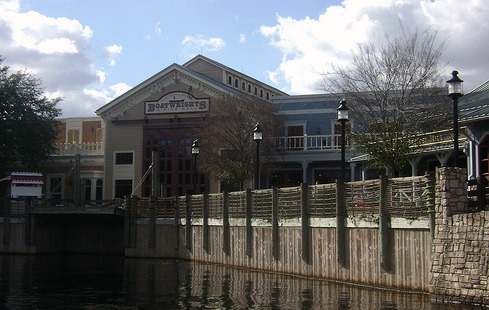 Boatwright's Dining Hall by Best of WDW

Riverside has a large foodcourt and a sit down restaurant.
The Food Mill Food Court has a functional cotton press that is powered by a water wheel with large mechanical gears. It is open for breakfast, lunch and dinner and offers five stations, including a build your own pasta station and also Grab and Go items. The food court is expensive, but larger and better than the Port Orleans food court. The Food Mill Food Court is hectic during busy periods, especially breakfast and dinner. Disney's refillable mugs can be purchased and refilled here.

Boatwright's Dining Hall is a full service restaurant that is themed like a shop building yard and has a view of the Sassagoula River. A partially contructed boat sits in the dining hall. The restaurant serves American and Cajun food and is open only for dinner. Reservations are suggested.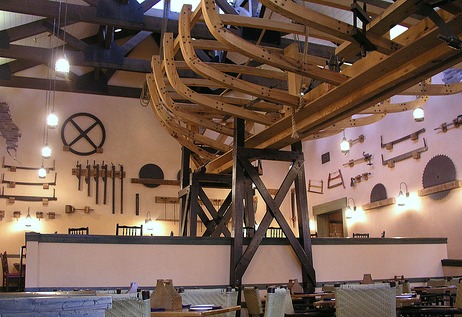 Boatwright's Dining Hall by rickpilot_2000

The River Roost Lounge is located adjacent to Boatwright's Dining Hall. Alcohol and light snacks are available. This is a fun place to watch Monday Night football on large screen televisions. A fun piano sing-along comedy show takes place on Wednesday through Saturday evenings.
A pool bar, Muddy Rivers, is located near the pool on Ol' Man Island.
Pizza, soda and beer delivery is available to the rooms.
Click here for more information on:
Home

›
Port Orleans
› Port Orleans Amenities