Pop Century Resort Amenities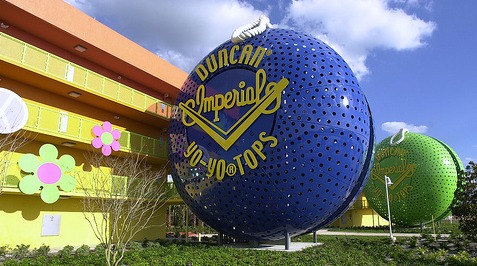 Disney Pop Century by Best of WDW

The Walt Disney World Pop Century Resort amenities will entertain the entire family. From movies under the stars to three themed swimming pools, there are plenty of family-friendly activities at this Disney value resort.

Recreation
Three pools are found at the Pop Century Resort. The largest pool, the Hippy Dippy Pool adorns the 70's section with 235,613 gallons of water is shaped like a gigantic flower. This fun pool has four large flower showers that spray water into the pool. Nearby are a ping pong table and a kiddie pool complete with zero entry and spray jets. Petal Pool bar is adjacent to the Hippy Dippy Pool.

The Pop Century Disney Resort also has two smaller, quieter pools. The 144,352 gallon bowling pin pool is set amid what appears to be a bowling alley. The computer pool is in the 1990's section.
There are no water slides or jacuzzi's at the Disney Pop Century resort. An assortment of activities are hosted at the Hippy Dippy Pool area. Remember to bring towels from your room to the pool since none are provided at the pool. You can call housekeeping to replenish your towels. The pools also have life vests available.

The Goofy Pop Jet Playground area is a fun, water play area for little ones. A playground is in 1960's area.
The resort has a one mile long jogging trail. Disney movies are shown nightly at the Hippy Dippy pool.
Pop Century Pool by rickpilot_2000

Classic Hall
At the center of the Walt Disney World Pop Century Resort, Classic Hall hosts the hotel's amenities. The attractive lobby has a check-in desk with a waiting area designed specially for kids. The Fast Forward Arcade and Everything Pop food court & gift shop are also in Classic Hall.

As a Disney value resort, there is a large food court on the property. The large Everything Pop food court has seven servicing stations serving decent food with a typical Disney price tag. The food court gets crowded and loud at peak times. Pizza delivery is also available to the rooms.
Everything Pop also contains a large gift shop and a Grab and Go Market in the rear which sells basic grocery items.

The resort bus service leaves from one bus stop at Classic Hall. Disney offers bus service to the theme parks, water parks and Downtown Disney from Pop Century. The resort has dedicated buses that are not shared with other resorts. However, the bus service receives mixed reviews from visitors. The bus stop uncovered, leaving you exposed to the hot Florida sun.
Click here for more information on Pop Century Resort rooms

Home

›
Pop Century
› Pop Century Amenities