Disney Pop Century Resort


Pop Century by Best of WDW

Take a trip back in time to the Disney Pop Century Resort. The resort pays tribute to the American pop culture from the late twentieth century. Covering the decades from 1950-1990, you will see enormous icons reminiscent of the past.

Rooms
Pop Century room by rickpilot_2000

The Disney Pop Century Resort offers clean, basic motel-type rooms. The rooms are small with limited storage, but ample for family of four. At 260 square feet, the rooms are small but will accommodate up to four people plus an infant in a crib (upon request).

Rooms contain two double beds or one king sized bed (upon request), a small table and chairs, a bureau with a television and keyed safe. The decor is tasteful and subdued compared to other Disney resorts, but does include Mickey Mouse theming in the comforters and carpeting. Rooms include iron, ironing board, hairdryer, mini fridge and complimentary Wi-Fi service.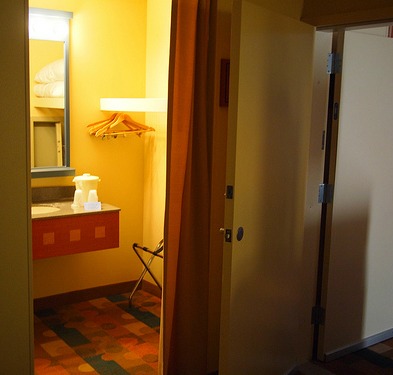 Pop Century Room by rickpilot_2000

You may request adjoining or handicap accessible rooms. Also available upon request are towels and blankets.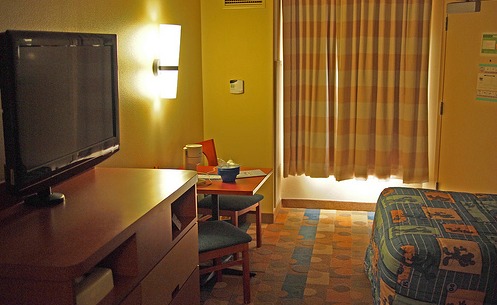 Disney Pop Century hotel room by rickpilot_2000

Disney Pop Century offers standard or preferred rooms. Preferred rooms are closer to the amenities. Room views are courtyard, parking lot or pool. You may request lake view rooms.

Pop Century shower by rickpilot_2000

The bathroom has a separate vanity area with one sink and a mirror. A curtain separates the vanity area from the sleeping area.

Self park in the adjacent lots, but some buildings are closer to lots than others. Check in is 3 PM and check out is 11:00.
Pop Century Resort frequently hosts large tour groups. Soundproofing of the rooms is not great. Pool view rooms and rooms on the first floor are the loudest, particularly in the 60's area. If you want tranquility, request a lake view room and/or an upper floor room. You can make your requests when making reservations and also again when checking in. In our experience, Disney tries to accommodate personal requests whenever possible.
Tips
60's area is is loudest, but has the best access to amenities

50's & 70's areas are quiet with minimal walking
80's & 90's areas have a longer walk, but are quietest
Lakeview rooms are farthest from parking, parts of 50's, all of 60's and part of 70's areas
Swing on over the Disney Pop Century Resort for a eye-catching, fun time in the midst of the Disney magic!

Click here for more information on Pop Century Resort amenities
Click for information on other Disney hotels:
Home

›
Pop Century
› Pop Century Rooms
---