Disney Value Resorts

Enter a world of fun and fantasy with the Disney Value Resorts. Walt Disney World offers three entertaining resorts for those on a budget. The resorts are family friendly, offering great pools and food courts. The rooms are small at 260 square feet, but will comfortably fit a small family.

Art of Animation Resort Radiator Springs


Why Stay in a Value Resort?
The Disney Value Resorts have a lot of perks, including:
Budget priced

Family friendly
Fun theme

Stay inside the magic of Walt Disney World
Nice pools

Disney standards for customer service and cleanliness

Disadvantages of Value Resorts
The Value Resorts have some negatives:
Small rooms
Limited amenities, recreation and dining options
Difficult to find peace and quiet
Themes are fun, but juvenile and unsophisticated
Large and sprawling properties can require a lot of walking
Noisy
Exterior walkways

The Hotels
Disney offers three different budget resorts. Click below for more information:
Comparing Value Resorts to Other Resorts
Disney Value Resorts

The Disney Value Resorts are clean and economical. The theming is well done, but unsophisticated. The amenities are limited compared to moderate or deluxe resorts. The hotels have nice pools, but no slide or hot tub. The rooms are 260 square feet, contain two double beds and can sleep up to four plus an infant in a crib. The resorts have food courts and no sit down restaurants. Luggage service is available, but you will likely have to wait for it.

The resorts are large and can require a lot of walking. It is difficult to find tranquility here as the resorts are very popular with families and large tour groups. The resorts have a motel feel with exterior walkways. Family suites at the All Star Music and Art of Animation Resorts can sleep up to 6.

The Disney Moderate Resorts are larger than Value Resorts at approximately 314 square feet. The amenities are more diverse and include a marina, sit down restaurant, pools with slides and hot tubs.
The Disney Deluxe Resorts offer the most amenities and recreational options, but they are very expensive. Rooms are between 344 to 440 square feet. These resorts are very high quality for a premium.

Our favorite Disney Value Resort is the new Art of Animation Resort!

Ramone at Art of Animation Resort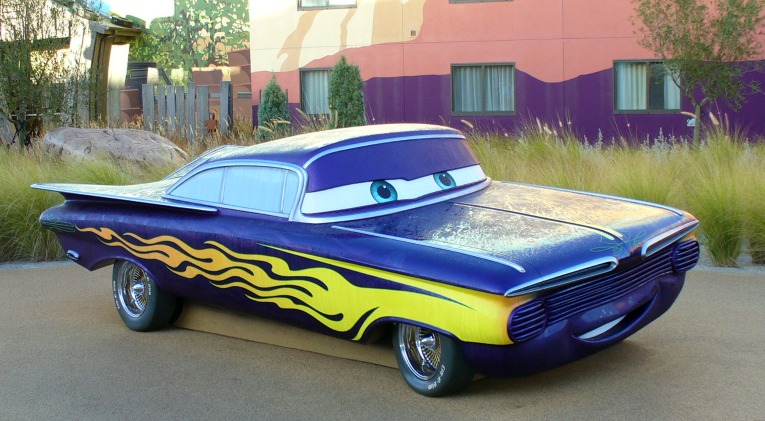 Disney Art of Animation Resort
Disney Art of Animation Resort is the newest hotel on Disney property. The resort immerses guests in the fantasy of the Disney animated classics: Cars, Finding Nemo, Little Mermaid and Lion King. The resort offers new family suites that have separate living and sleeping areas and two full bathrooms! The resort has 1120 family suites and 864 standard rooms.

The theming at this resort is fantastic! Huge, colorful icons from the movies adorn the resorts. The rooms and resort landscaping match the theme. The Art of Animation Resort features the largest pool on Disney property, the pretty Big Blue Pool, which has an underwater sound system.

Disney All Star Resort
The Disney All Star Resort features three fun themes: Sports, Movies and Music. Each All Star Resort has 1920 standard sized rooms. The theme is visually appealing and loved by children of all ages.

Disney Pop Century
Disney Pop Century Resort is a time warp back to the late 20th century. The buildings are themed with pop icons from each decade from 1950-1999. This hotel is a lot of fun! The resort has 2880 rooms.

Click here for more information on:
Home

›
About Resorts
› Disney Value Resorts