Art of Animation Little Mermaid

The Art of Animation Resort Little Mermaid section draws guests into the classic tale. With the resort's only standard rooms, the mermaid rooms offer value accommodations at a reasonable price. The Flippin' Fins pool is a quiet alternative to the larger Big Blue pool in the Finding Nemo section.
---
Grounds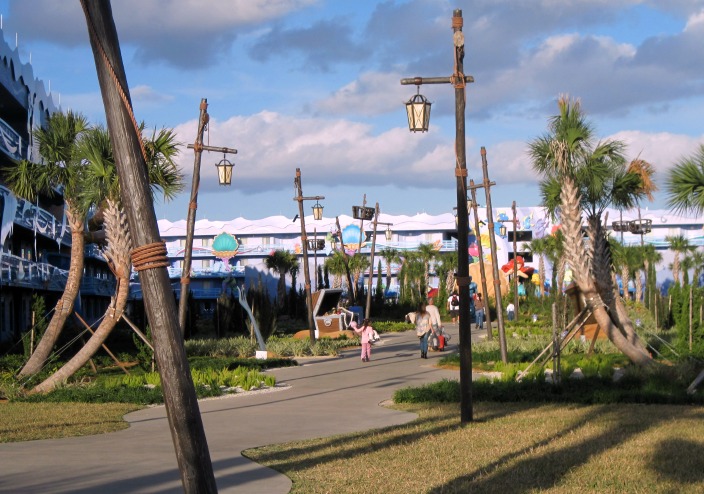 Crooked lampposts, leaning palms and spiky plants create the atmosphere of a weather-beaten seaside in the Little Mermaid area of the Art of Animation Resort. Overlooking the courtyard are huge recreations of the characters from the movie.

Visitors are greeted with four-story tall, full-color versions of King Triton and Ursula the sea witch.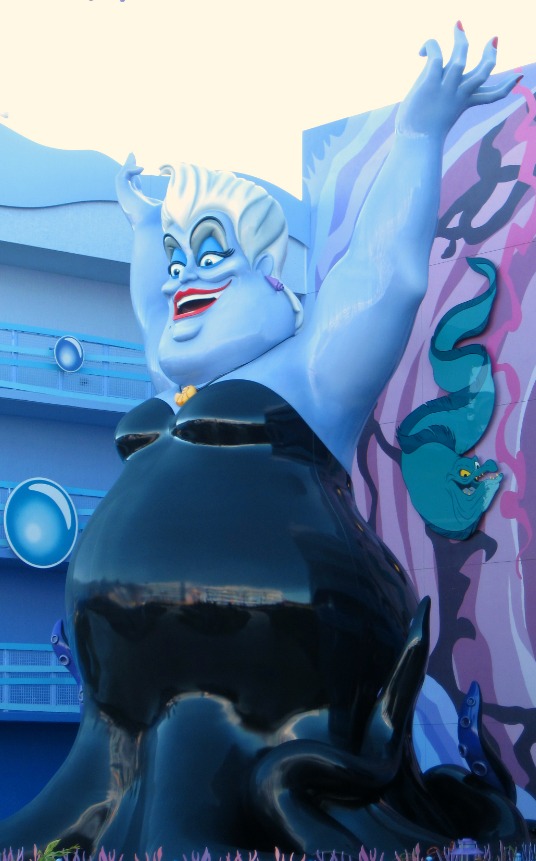 Larger-than-life recreations of Ariel with Flounder and Sebastian in a seashell overlook the pool.

Prince Eric's statue, a chest overflowing with treasures and a "dinglehopper" (fork) are on display.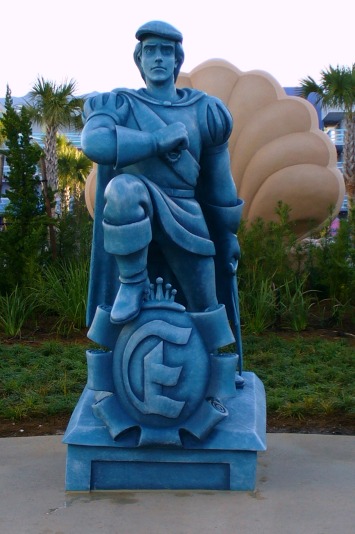 ---
Rooms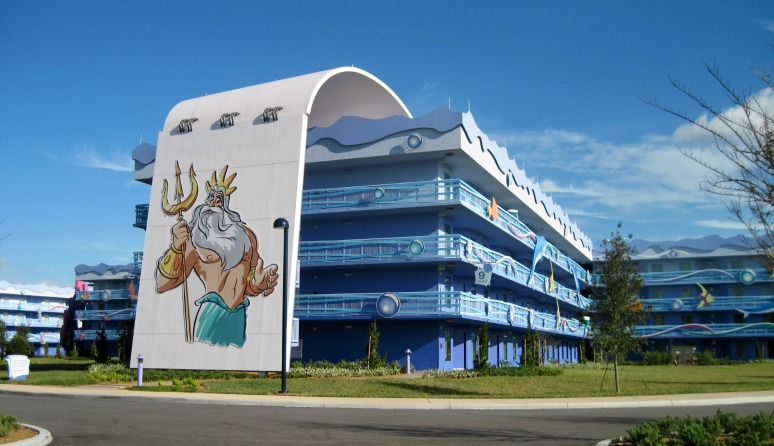 The Little Mermaid buildings have exterior hallways. Buildings were originally constructed as part of a Pop Century Resort expansion until the plans were placed on hold.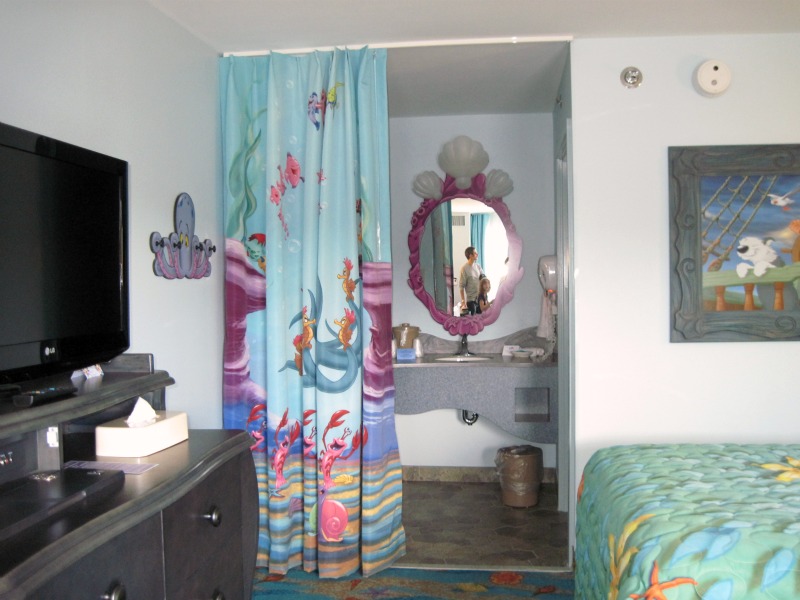 The Little Mermaid section has 864 rooms in three buildings. The Disney value resort rooms are the only standard hotel rooms in the resort. At 277 square feet the rooms are comparable to other Disney value resorts.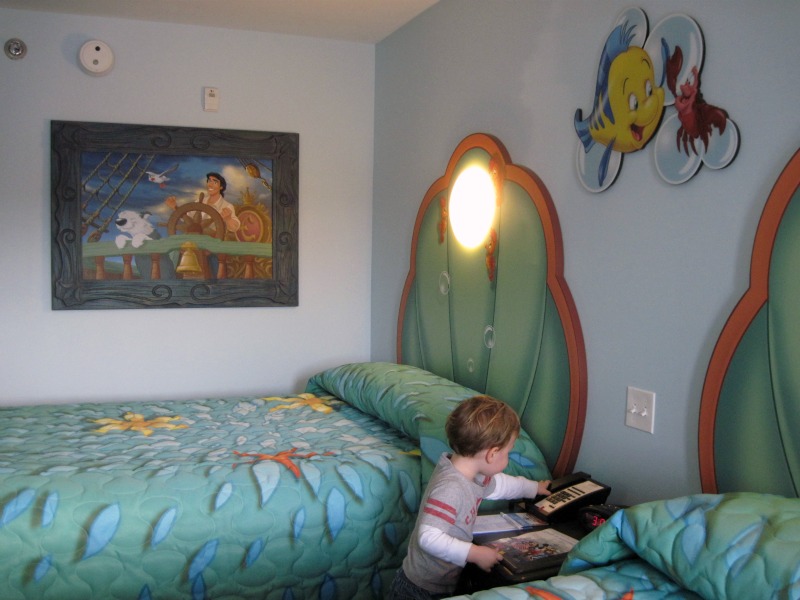 The rooms sleep up to four plus one infant in a crib. The rooms include:
Two double beds or one king bed (on request)

Table with two chairs
Bedside table

Flat screen television on top of a bureau
Electronic safe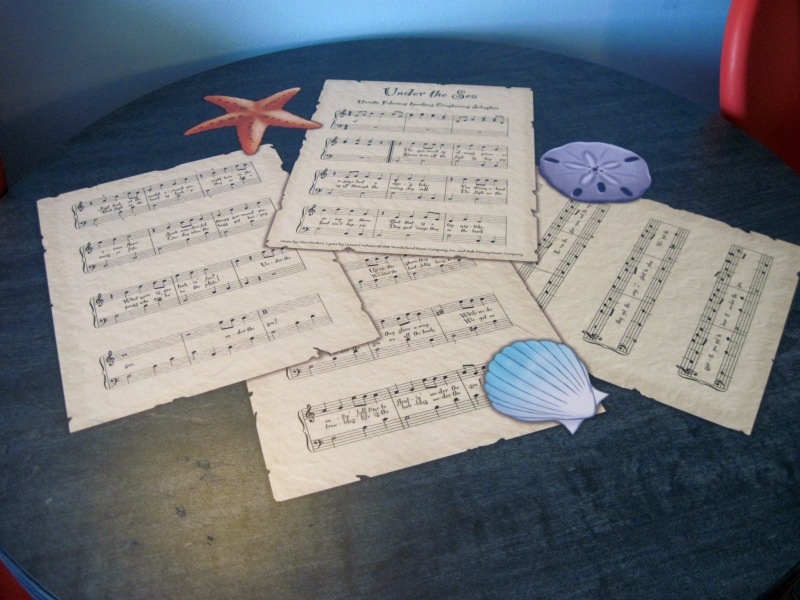 The decor of the rooms is adorable. You feel like you are truly under the sea from the carpeting to the furniture and bathroom tiles. Decorated in colorful hues of blue, images of fish adorn the walls and sheet music from the movie is built into the tabletop.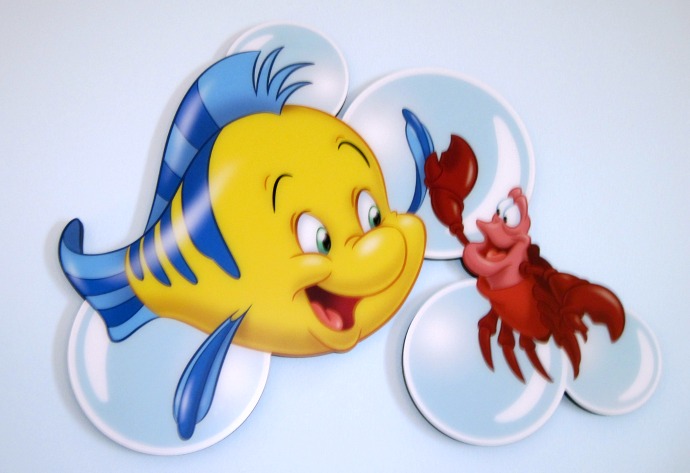 Mirrors, light fixtures and wall hangings reflect the theme. The headboard looks like a large seashell. A picture of Prince Eric at the helm of his ship hangs on the wall.
---
Bathroom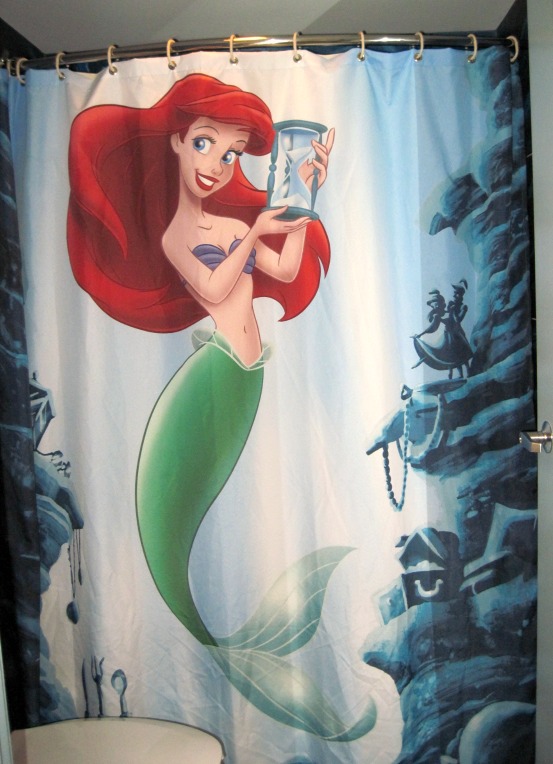 A cute Under the Sea curtain separates the vanity and sleeping areas. The bathroom has a separate vanity area with a sink. An adorable shower curtain featuring Ariel hangs in the bathroom. Tiles in the shower recreate Ariel's underwater grotto.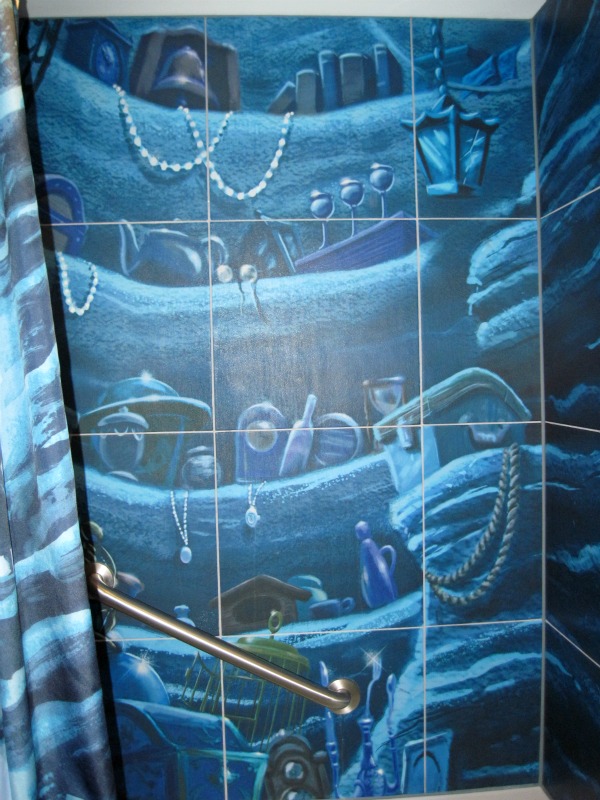 The Ariel shower curtain can be purchased at the Ink and Paint resort gift shop. I considered buying one until I learned they cost about $100!
Yikes!!!
However, the gift shop cast member warned me that Disney will charge $200 if you take the shower curtain from the room.
---
Pool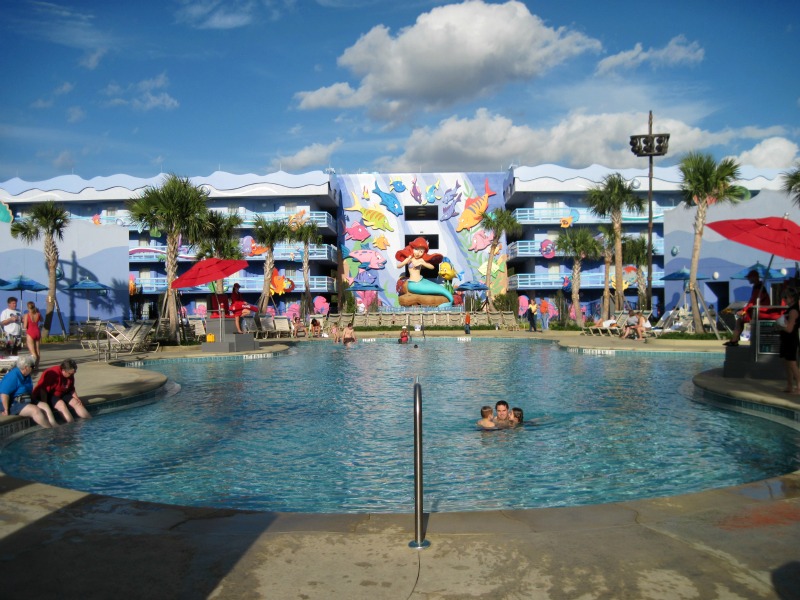 One of the two smaller pools in the Art of Animation Resort can be found in the Little Mermaid area. At the center of the Little Mermaid courtyard is the Flippin' Fins pool. As one of the resort's quiet pools, it is possible to find a pleasant respite here.
Click here for more information on:
---
Home

›
Art of Animation
› Little Mermaid