Art of Animation Lion King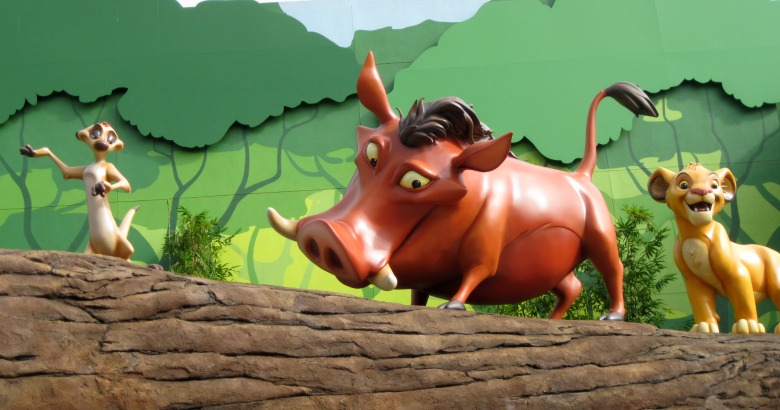 Enter the African savannah at The Art of Animation Lion King Resort area. The Lion King buildings house Disney family suites that can accommodate up to sex people. Resort grounds have a jungle-like feel from the still slightly immature, yet rich foliage. Eye-catching, colorful recreations of the characters from Lion King the movie can be viewed around the resort.

Rafiki bids you welcome as you enter the Lion King area. Simba, Timon and Pumbaa are walking across a fallen log is near the Elephant Graveyard. Scar is perched atop a rock. The hyenas sneer down at you from the elephant graveyard.
Though I hoped for more, the elephant graveyard is basically a simple walk-through for kids.

---
Rooms
The Art of Animation Lion King rooms are housed in two buildings. All of the rooms in this section of the resort are family suites with 565 square feet of space.
Suites consist of:
Living room with a pullout double sofabed

Bedroom with queen bed

Dining area
Two full bathrooms (a big plus!)

The dining area has a unique table that converts to a double bed. The kitchette provides a microwave, sink and mini-fridge. Two flat screen televisions are in the suites. Possibly the best feature of the family suites are two full bathrooms.
The African savannah theme flows indoors from the foliage-covered carpeting in the hallways to the decor of the rooms. Decorated in shades of green and brown, the rooms display images from the Lion King movie. Wildlife plays a prominent part of the decor.
Shower tile displays an African sunset scene from the Lion King movie. The shower curtain has a cute image of Timon and Pumbaa taking a bath.

---
The Lion King section of the resort does not have its own swimming pool, but guests may use one of the other three pools on the property which are within easy walking distance.

---
Hyenas!
---
Tips
Building 10 is closest to the parking lots
Building 6 is closest to the lake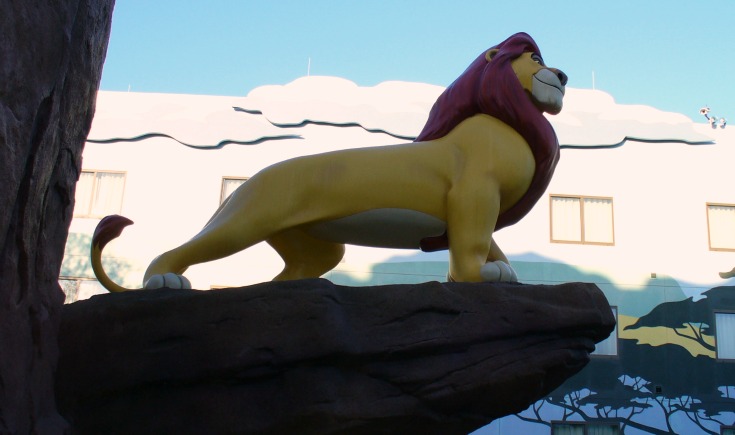 Click for more information on:
---
Home

›
Art of Animation
› Lion King