Wilderness Lodge

Discover the enticing dining options of Disney's Wilderness Lodge. As you enter the lodge, the scent of smoked food wafts around you the grand lobby of the hotel. You will know you have arrived someplace special. This special hotel has one of the best signature sit down restaurants at Disney and also a great quick service eatery. A casual sit down restaurant, lounge, pool bar and room service round out the offerings.

Artist Point
This premier signature dining destination is one of the finest restaurants on Walt Disney World property. This attractive restaurant has vaulted ceilings, wooden beams, murals and large windows overlooking the hotel courtyard.

I have never eaten anything in this restaurant that was not excellent. Their appetizers are very good, including the Portobello mushroom soup. The restaurant is known for cedar-plank salmon, steaks and wild game. Vegetarian entrees are also available.
The food and service are consistently very good. If desired, you can request a table by the windows when making your reservation and again when you check in a the restaurant. Service is leisurely (a bit slow) and you may need to wait for your table. The slower pace can be a challenge if you bring young children to the restaurant, but rest assured that this Disney restaurant is very accustomed to managing children. You can request faster service if you are dealing with a squirmy little one.
Don't forget to order the traditional berry cobbler for dessert. Open for dinner only. Reservations are required.

Roaring Forks
This is one of the best quick service eateries at Disney World. You can enjoy your food at the indoor seating area or outside. Enjoy sandwiches, salads and vegetarian entrees. Guests can purchase and refill their Disney mugs here.
Territory Lounge
This bar is located off the lobby between the restaurants. The décor is warm with rich woods, leather and soft lighting and features a large map of Lewis and Clark's expedition across the western United States. The bar serves mixed drinks, beer, wine and a pub menu is available for food.
Trout Pass
The Trout Pass pool bar is adjacent to the main pool and the Silver Creek as it makes it course towards Bay Lake. This cabin style building serves soft drinks, beer, wine, mixed drinks and non-alcoholic frozen specialties.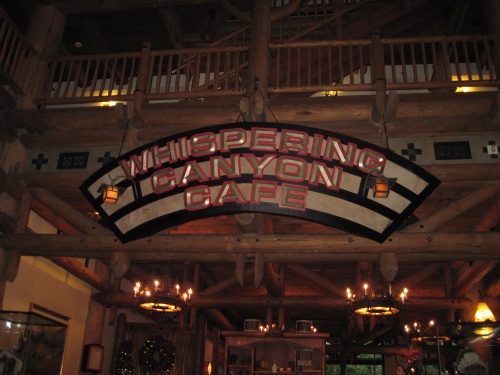 Whispering Canyon Cafe
Have a rootin' tootin' good time at this festive eatery! This fun family casual sit down restaurant will bring you back to the days of cowboys and Indians. The servers are dressed in western attire and serve family platters of smoked food and an ala carte menu. There are plenty of antics and this restaurant is very enjoyable. This place is better more for the fun than the food.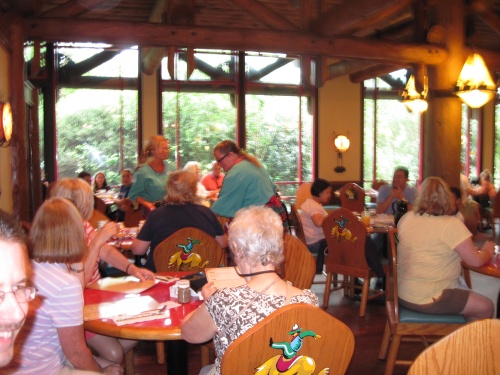 Aunt Jenny's serves room service.
Click for more information:
Home

›
Wilderness Lodge
› Wilderness Lodge Dining