Disney All Star Music Resort

The Disney All Star Music Resort has 1604 rooms and 162 family suites in 10 buildings in the Animal Kingdom Area. As a Disney value resort, the hotel offers the perks of staying on property for a budget price. The hotel has five musical themes: Calypso, Jazz Inn, Rock Inn, Country Fair, and the Broadway Hotel. Huge icons adorn the resort, including three-story high cowboy boots, electric guitars and a jukebox.
The Disney All Star Music Resort Calypso area has huge maracas and drums and overlooks the large Calypso pool. Broadway is adorned with top hats and a Beauty and the Beast marquee. Country Fair has three story tall cowboy boots and banjos. Jazz Inn displays drums, clarinets and saxophones with silhouettes of musicians lining the rooftops. Rock Inn rocks with a enormous jukebox, electric guitars and microphones.

All Star Music Resort by Erin Leigh McConnell

Rooms
Rooms at the All Star Music Resort are a small, but adequate 260 square feet. The rooms can sleep up to four people plus an infant in a crib and have either two doubles or a king sized bed. The king rooms are handicapped accessible and have a shower, but no tub.
The decor is bright, but a little plain compared to other resorts. Music notes adorn the curtains and wallpaper border. Light fixtures are shaped like megaphones or stars. Rooms have a small table, two chairs, television and mini-fridge.

The bathrooms have a separate vanity area with one sink. The vanity area is separated from the sleeping area with a curtain.

Rooms open into exterior corridors, similar to a motel. Standard room views are parking lot, courtyards or pool. Preferred rooms available in Calypso buildings which is closest to Melody Hall and all resort amenities. The Disney All Star Music Resort frequently hosts large groups of teenagers, so things can get noisy.
All Star Music Family Suite by Best of WDW

Family Suites
The All Star Music Resort hosts all of the All Star family suites. With 520 square feet of space, the family suites sleep up to six people plus an infant in a crib. The suites were converted from regular rooms in the Jazz Inn and Calypso buildings.
Family suites include:
Bedroom and living room

Two flat screen televisions

Pull out double sofa bed
Chair and ottoman that converts to two twin beds

Kitchenette with a microwave, mini-fridge & coffee maker
Two bathrooms (a huge plus!!)

All Star Resorts
The All Star Resorts have:
Motel-like buildings with exterior hallways

Coin-operated laundry

Self-parking around the resort buildings
Luggage assistance, generally hourly
Guests can use pools at any of the All Star Resort hotels
No towels at the pool. Bring them from your room & call housekeeping for replacements
Check in at 4 PM, check out at 11 AM
Every All Star Room has:
Free Wi-Fi

King beds available in handicapped accessible rooms

Connecting rooms available upon request




Rooms with two double beds sleep up to four plus an infant in a crib

Cribs available upon request

Resort theme can be requested but is note guaranteed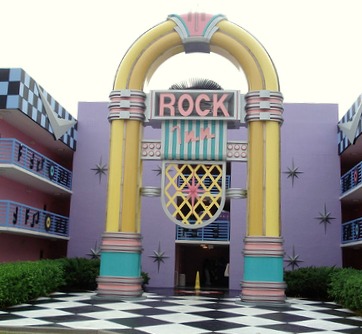 All Star Music Resort Jukebox by sburke2478

Recreation
The main building at the All Star Music Resort is Melody Hall and contains:
Resort check in
Concierge
Maestro Mickey gift shop
Note'able Games Arcade
Nightly movies
Intermission Food Court
A playground is located on the resort property.

Pools
The Disney All Star Music Resort has two pools. The guitar-shaped Calypso pool is the large pool with a kiddie pool. The Three Cabaleros entertain with watery spray from the center of the pool for some wet fun. This is the largest pool at the All Star Resort with 251,418 gallons water. The Singing Spirits pool bar is here.

The smaller Piano pool has 106,036-gallons and is considered the quiet pool.
Life vests are available at the pool. Remember to take towels from your room as they are not provided at the pool. You must call housekeeping to replenish the towels in your room.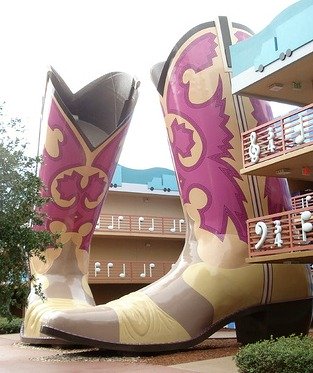 All Star Music Resort by sburke2478

Address
1801 West Buena Vista Drive, Lake Buena Vista, FL 32830-1000.
Telephone number: (407) 939-6000
Tips:
Country Fair is farthest from Melody Hall, but will offer more peace and quiet
Calypso building is closest to resort amenities
Snack foods sold in the gift shop are more reasonably priced than the food court.
Click for more information:
---
Home

›
All Star Resort
› All Star Music